Skanda (Telugu) - USA Theaters List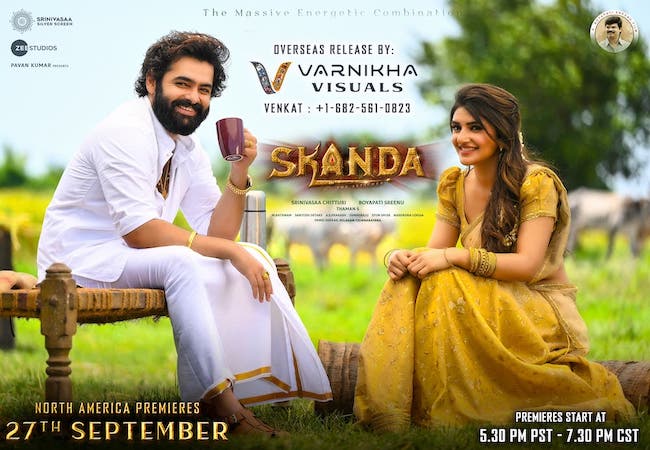 SKANDA (Telugu) USA THEATER LIST

Cast: Ram Pothineni, Sree Leela & Others

Writer, Director : Boyapati Sreenu

Producer : Srinivasaa Chitturi

Presented by: Zee Studios, Pavan Kumar

Banner : Srinivasaa Silver Screen

PRO: Vamsi - Sekhar, Pulagam Chinnarayana

Language: Telugu

USA Premieres on Sep 27th

USA Release by: Varnikha Visuals

State

City

Circuit

Theater Name

Alabama

Montgomery

AMC

AMC Festival Plaza 16

Alabama

Birmingham

AMC

AMC Summit 16

Alabama

Huntsville

AMC

AMC Valley Bend 18

Alabama

Birmingham

Regal

Regal Trussville Stadium 16

Arizona

Mesa

Cinemark

Cinemark Mesa 16

Arkansas

Rogers

Malco

Malco Pinnacle Cinema

Arkansas

Little Rock

Cinemark

Cinemark Colonel Glenn

California

Aurora

Cinemark

Cinemark Century Aurora

California

Burbank

AMC

AMC Burbank Town Center 8

California

Clovis

Regal

Regal UA Clovis Movies 8

California

Dublin

Regal

Regal Hacienda Crossings

California

El Cajon

Regal

Regal Parkway Plaza

California

Folsom

Cinemark

Century Folsom 14

California

Foothill Ranch

Cinemark

Lake Forest Foothill Ranch

California

Fremont

Cinelounge

Cine Lounge Fremont 7

California

Fremont

Cinemark

Century at Pacific Commons

California

Long Beach

Regal

Regal Edwards Long Beach

California

Los Angeles

Cinemark

Cinemark 18 & XD

California

Milpitas

Cinemark

Century Great Mall 20

California

Mountain View

Cinemark

Century Mountain View 16

California

Norwalk

AMC

AMC Norwalk 20

California

Orange

Cinemark

Cinemark Century Orange

California

Roseville

Cinemark

Cinemark Roseville Galleria

California

San Diego

IND

Reading Cinemas Town Square

California

San Jose

Cinemark

Cinemark Century Oakridge 20

California

Tracy

Cinemark

Cinemark Movies 14

California

Union City

Cinemark

Century Union Landing 25

Colorado

Walnut Creek

Cinemark

CinCentury Walnut Creek 14

Connecticut

Hartford

Apple

Apple Cinemas Xtreme

Connecticut

Manchester

Cinemark

Cinemark Buckland Hills 18

Connecticut

Milford

Cinemark

Cinemark Connecticut Post 14

Connecticut

Waterbury

Apple

Apple Cinemas Waterbury

Delaware

Newark

Cinemark

Cinemark Christiana and XD

Delaware

Newark

Regal

Regal Peoples Plaza

Delaware

Wilmington

Cinemark

Cinemark Movies 10

Florida

Davie

Cinemark

Cinemark Paradise 24

Florida

Fort Lauderdale

Regal

Regal Cypress Creek Station

Florida

Fort Myers

Regal

Regal Belltower Stadium 20

Florida

Gainesville

Regal

Regal Royal Park

Florida

Jacksonville

Cinemark

Cinemark Tinseltown and XD

Florida

Lake Buena Vista

AMC

AMC Dine-in Disney Springs 24

Florida

Miami

Regal

Regal Southland Mall

Florida

Orlando

Cinemark

Cinemark Orlando and XD

Florida

Oviedo

Regal

Regal Oviedo Mall 22

Florida

Riverview

Xscape

Xscape Theatres Riverview

Florida

Royal Palm Beach

Regal

Regal Royal Palm Beach

Florida

Sunrise

Regal

Regal Sawgrass Stadium 23

Florida

Tallahassee

CMX

CMX Cinemas Fallschase

Georgia

Alpharetta

CMX

CMX CineBistro Halcyon

Georgia

Atlanta

WTFD

The Springs Cinema & Taphouse

Georgia

Buford

Regal

Regal Mall of Georgia

Georgia

Chamblee

Regal

Regal Hollywood 24

Georgia

Decatur

AMC

AMC North Dekalb 16

Georgia

Duluth

Regal

Regal Medlock Crossing

Georgia

Roswell

Marcus

Marcus Roswell Movie Tavern

Idaho

Boise

Regal

Regal Edwards Boise

Illinois

Addison

Marcus

Marcus Addison Cinema

Illinois

Bloomington

Marcus

Marcus Bloomington Cinema

Illinois

Carbondale

VIP

VIP Cinemas Carbondale 8

Illinois

Chicago

Kerasotes

ShowPlace ICON Roosevelt

Illinois

Crystal Lake

Regal

Regal Crystal Lake Showplace

Illinois

Deer Park

Cinemark

Century Deer Park 16

Illinois

Gurnee

Marcus

Marcus Gurnee Mills Cinema

Illinois

Lake Zurich

Regal

Regal Lake Zurich 12

Illinois

Niles

Cinelounge

Cine Lounge at Niles

Illinois

North Aurora

Cinemark

Cinemark Tinseltown USA

Illinois

Peoria

GQT

GQT Willow Knolls 14

Illinois

Warrenville

Cinemark

Cinemark Cantera Warrenville

Illinois

Woodridge

Cinemark

Cinemark Seven Bridges

Indiana

Carmel

Regal

Regal Village Park

Indiana

Indianapolis

Cinemark

Cinemark Greenwood Corner

Indiana

Indianapolis

Regal

Regal UA Galaxy 14

Indiana

Noblesville

Emagine

Emagine Noblesville

Indiana

West Lafayette

GQT

GQT Wabash Landing 9

Iowa

Cedar Rapids

Marcus

Marcus Cedar Rapids Cinema

Iowa

Davenport

Cinemark

Cinemark Davenport 18

Iowa

Iowa City

Marcus

Marcus Sycamore Cinema

Iowa

West Des Moines

Cinemark

Century Jordan Creek 20

Kansas

Merriam

Cinemark

Cinemark 20 and XD

Kansas

Olathe

AMC

AMC Dine-In Studio 28

Kansas

Wichita

Regal

Regal Warren East

Kentucky

Lexington

Cinemark

Cinemark Fayette Mall

Kentucky

Louisville

Cinemark

Cinemark Tinseltown USA

Louisiana

Harahan

AMC

AMC Elmwood Palace 20

Louisiana

Shreveport

Cinemark

Cinemark Tinseltown and XD

Louisiana

West Monroe

Cinemark

Cinemark Tinseltown 17

Maine

Westbrook

Apple

Apple Cinemas Westbrook

Maryland

Brandywine

Xscape

Brandywine 14

Maryland

Hanover

Cinemark

Cinemark Egyptian 24

Maryland

Columbia

Cinemark

Cinemark Columbia Snowden

Maryland

Silver Spring

Regal

Regal Majestic and IMAX

Massachusetts

Lowell

Showcase

Showcase Cinema de Lux Lowell

Massachusetts

Cambridge

Apple

Apple Cinemas Cambridge

Massachusetts

Methuen

AMC

AMC Methuen 20

Massachusetts

Marlborough

Regal

Regal Solomon Pond

Michigan

Canton

Emagine

Emagine Canton

Michigan

Grand Rapids

Loeks

Celebration Grand Rapids North

Michigan

Lansing

Celebration

Celebration Cinema Lansing

Michigan

Lansing

Regal

Regal Lansing Mall

Michigan

Novi

Emagine

Emagine Theatres Novi

Michigan

Troy

MJR

MJR Troy Grand Digital Cinema

Michigan

Walled Lake

Regal

Regal UA Commerce Township

Michigan

Westland

MJR

MJR Westland Grand Cinema 16

Michigan

Ypsilanti

Cinemark

Cinemark Ann Arbor 20

Minnesota

Burnsville

CMX

CMX Odyssey IMAX

Minnesota

Eagan

Emagine

Emagine Eagan

Minnesota

Lakeville

Emagine

Emagine Lakeville

Minnesota

Minneapolis

Kerasotes

Minneapolis Showplace Icon

Minnesota

Plymouth

IND

Plymouth Grand 15

Minnesota

Shakopee

Marcus

Southbridge Crossing Cinema

Missouri

Chesterfield

Marcus

Marcus Chesterfield Cinema

Missouri

Saint Peters

Marcus

Marcus Mid Rivers Cinema

Missouri

Cape Girardeau

Marcus

Marcus Cape West Cinema

Missouri

Saint Charles

Marcus

Marcus St Charles Cinema

Nebraska

Lincoln

Marcus

Marcus Lincoln Grand Cinema

Nebraska

Omaha

Marcus

Marcus Village Pointe Cinema

Nebraska

Omaha

Marcus

Marcus Majestic Cinema

New Hampshire

Hooksett

Apple

Apple Cinemas Hooksett IMAX

New Hampshire

Merrimack

Apple

Apple Cinemas Merrimack

New Hampshire

Salem

Cinemark

Cinemark Rockingham Park

New Jersey

Burlington

Regal

Regal Cinemas Burlington

New Jersey

Manville

IND

Reading Cinemas Manville

New Jersey

North Brunswick

Regal

Regal Commerce Center

New Jersey

Secaucus

Kerasotes

Kerasotes ShowPlace ICON 14

New Jersey

Somerdale

Cinemark

Cinemark 16 and XD

New Jersey

South Plainfield

Regal

Regal Hadley Theatre

New Jersey

Wayne

Cinemark

Cinemark Willowbrook Mall

New York

Albany

Regal

Regal Cinemas Crossgates

New York

Buffalo

Regal

Regal Elmwood Center

New York

Deer Park

Regal

Regal Deer Park 16

New York

Farmingdale

Regal

Regal UA Farmingdale

New York

Long Island City

Regal

Regal UA Kaufman Astoria

New York

New York

Regal

Regal E-Walk

New York

New York

Regal

Regal Union Square 17

New York

West Nyack

AMC

AMC Palisades 21

New York

Westbury

Regal

Regal UA Westbury 12

New York

Williamsville

Regal

Regal Transit Center 18

North Carolina

Cary

Paragon

Paragon Theatres Parkside

North Carolina

Cary

Regal

Regal Crossroads Stadium 20

North Carolina

Charlotte

Cinemark

Cinemark Movie Bistro Charlotte

North Carolina

Charlotte

AMC

AMC Carolina Pavilion 22

North Carolina

Charlotte

ITBS

Ayrsley Grand Cinemas 14

North Carolina

Charlotte

Regal

Regal Stonecrest at Piper Glen

North Carolina

Concord

IND

Carolina Mall Cinema

North Carolina

Concord

AMC

AMC Concord Mills 24

North Carolina

Durham

AMC

AMC Southpoint 17

North Carolina

Greensboro

IND

Red Cinemas

North Carolina

Greensboro

Regal

Regal Greensboro Grande

North Carolina

Raleigh

Cinemark

Cinemark Raleigh Grande

North Carolina

Raleigh

Regal

Regal Brier Creek 14

North Dakota

Fargo

Marcus

Marcus West Acres Cinema

Ohio

Columbus

Cinemark

Cinemark Polaris 18

Ohio

Milford

Cinemark

Cinemark Milford 16

Ohio

Valley View

Cinemark

Cinemark Valley View

Ohio

West Carrollton

Cinemark

Cinemark Dayton South

Ohio

Mayfield Heights

IND

Atlas Cinemas Eastgate 10

Ohio

Columbus

Marcus

Marcus Crosswoods Cinema

Ohio

Beavercreek

Regal

Regal Fairfield Commons 20

Ohio

Massillon

Regal

Massillon Stadium 12

Oklahoma

Oklahoma City

Cinemark

Cinemark Tinseltown and XD

Oklahoma

Tulsa

Cinemark

Cinemark Tulsa and IMAX

Oregon

Beaverton

Cinemark

Cinemark Cedar Hills 16

Oregon

Hillsboro

Regal

Regal Movies on TV 16

Pennsylvania

Allentown

Marcus

Marcus Trexlertown Movie Tavern

Pennsylvania

Camp Hill

AMC

AMC Classic Camp Hill 12

Pennsylvania

Downingtown

Regal

Regal Downington and IMAX

Pennsylvania

Erie

Cinemark

Cinemark Tinseltown USA

Pennsylvania

Exton

Marcus

Marcus Exton Movie Tavern

Pennsylvania

Harrisburg

Regal

Regal Harrisburg

Pennsylvania

Monroeville

Cinemark

Cinemark Monroeville Mall

Pennsylvania

Pittsburgh

Cinemark

Cinemark Robinson Township

Pennsylvania

State College

IND

UEC College 9

Rhode Island

Warwick

Apple

Apple Cinemas Warwick

South Carolina

Columbia

AMC

AMC Harbison 14

South Carolina

Columbia

Regal

Regal Sandhill Stadium 16

South Carolina

Greenville

Regal

Regal Hollywood - Greenville

Tennessee

Memphis

Malco

Malco Wolfchase Cinema Grill

Tennessee

Chattanooga

AMC

AMC Chattanooga 18

Tennessee

Nashville

Regal

Regal Hollywood 27

Texas

Allen

Cinemark

Cinemark Allen 16

Texas

Austin

Regal

Regal Gateway 4DX and IMAX

Texas

Bee Cave

Cinemark

Cinemark Hill Country Galleria

Texas

Cedar Park

Cinemark

Cinemark Cedar Park

Texas

College Station

Cinemark

Cinemark Movies 18

Texas

Corpus Christi

AMC

AMC Corpus Christi 16

Texas

Dallas

Cinemark

Cinemark 17 and IMAX

Texas

Denton

Cinemark

Cinemark 14

Texas

Denton

Marcus

Denton Movie Tavern

Texas

Frisco

Cinemark

Cinemark Frisco Square

Texas

Frisco

AMC

AMC Dine-In Stonebriar 24

Texas

Grapevine

Cinemark

Cinemark Tinseltown Grapevine

Texas

Grapevine

AMC

AMC Dine-In Grapevine Mills 30

Texas

Houston

Cinemark

Cinemark Memorial City

Texas

Houston

Cinemark

Cinemark Tinseltown 290

Texas

Hurst

Cinemark

Cinemark Northeast Mall

Texas

Katy

Cinemark

Cinemark 19 and XD

Texas

Lewisville

Cinemark

Cinemark Music City Mall

Texas

Lubbock

Cinemark

Cinemark Tinseltown Lubbock

Texas

McKinney

Cinemark

Cinemark Movies 14

Texas

McKinney

Cinemark

Cinemark North McKinney

Texas

Missouri City

Cinemark

Cinemark Missouri City

Texas

Pflugerville

Cinemark

Cinemark 20 and XD

Texas

Plano

Cinemark

Cinemark Legacy and XD

Texas

Plano

Cinemark

Cinemark West Plano

Texas

Richardson

FMG

Fun Movie Grill Dine-in 3

Texas

Richmond

Cinemark

Cinemark Longmeadow

Texas

Round Rock

Cinemark

Cinemark 14 Round Rock

Texas

San Antonio

Cinemark

Cinemark San Antonio 16

Texas

San Antonio

Regal

Regal Cielo Vista 18

Texas

Sugar Land

AMC

AMC First Colony 24

Texas

The Colony

Galaxy

Galaxy Grandscape

Texas

The Woodlands

Cinemark

Cinemark 17 and XD

Utah

West Jordan

Cinemark

Cinemark Jordan Landing

Virginia

Ashburn

Regal

Regal Fox IMAX and 4DX

Virginia

Centreville

Cinemark

Cinemark Centerville 12

Virginia

Charlottesville

Regal

Regal Stonefield Stadium 14

Virginia

Fairfax

Cinemark

Cinemark Fairfax Corner

Virginia

Glen Allen

Regal

Regal Virginia Center

Virginia

McLean

Kerasotes

Tysons Showplace Icon

Virginia

Midlothian

Regal

Regal Commonwealth Center

Virginia

Norfolk

Regal

Regal MacArthur Center 18

Virginia

Richmond

Regal

Regal Short Pump 14

Washington

Bellevue

Cinemark

Cinemark Lincoln Square 16

Washington

Kirkland

Cinemark

Cinemark Totem Lake

Washington

Monroe

Galaxy

Galaxy Monroe

Washington

Seattle

AMC

AMC Seattle 10

Wisconsin

Milwaukee

Marcus

Southgate Cinema

Wisconsin

Appleton

Marcus

Marcus Hollywood Cinema

Wisconsin

Madison

Marcus

Marcus Point Cinema

Wisconsin

Waukesha

Marcus

Marcus Majestic Brookfield


Varnikha Visuals is set to bring the action-packed entertainer SKANDA to the Overseas audience!

Blockbuster maker Boyapati Sreenu and Ustaad Ram Pothineni's highly anticipated mass action entertainer, SKANDA, is a much-awaited Pan-Indian movie from Tollywood.

With the trailer creating a lot of buzz, garnering 50M+ views, and boasting 3 chartbuster songs already, audiences are eagerly awaiting this power-packed movie in September.

SS Thaman's thumping background score, chartbuster songs, and the presence of the most happening actress, Sreeleela, make the movie even more exciting.

SKANDA is produced by Srinivasaa Chitturi, boasting a massive budget, high production values, and top-notch technical standards under the Srinivasaa Silver Screen banner. It is presented by Zee Studios South and Pavan Kumar.

The movie is scheduled for release worldwide on September 28th, with premieres in North America on September 27th at 7:30 PM CST.

Venkat Perumalla of Varnikha Visuals has acquired the complete overseas rights for the movie. They have previously successfully released the movie 'Hidimbha' in the US, achieving success on their very first attempt.

Now, by securing the rights for SKANDA, they are entering the big leagues and are hopeful for massive success at the overseas box office. SKANDA will mark the biggest release of Ram Pothineni's career in North America.

For details and business inquiries, please contact: +1 (682) 561-0823.