Unstoppable (Telugu) - USA Theaters List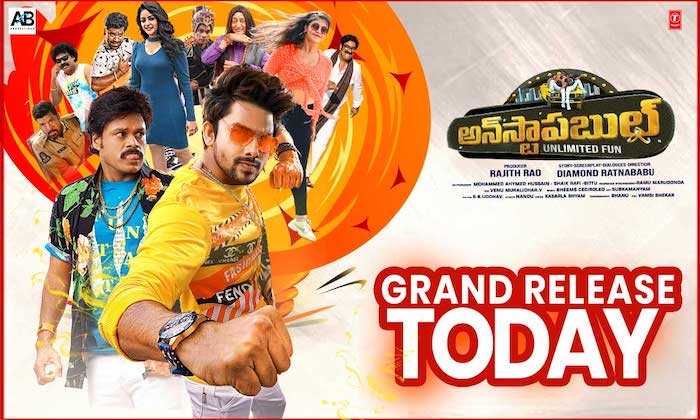 UNSTOPPABLE - Unlimted Fun USA Theater List

Cast: Vj Sunny, Sapthagiri, Nakshatra, Aqsa Khan, Bittiri Satti, Pruthvi, Posani Krishna Murali, Raja Ravindra, Raghu Babu, Anand Chakrapani, Viran Muttam Setty, Vikramaditya, Murali Goud, Rupa Lakshmi, Shakalaka Shankar, Chammak Chandra, Manichandana, Lirisha, Geetha Singh, Gabbar Singh Batch Etc..

Director - Diamond Rathna Babu

Producer - Rajith Rao

Co-Producers: Shaik Rafi, Bittu, Ramu Marugonda

Banners - AB Productions

PRO: Vamsi Shekar

Overseas Release by: Tangensis Inc

State

City

Theater Name

Circuit

AL

Huntsville

Valley Bend 18

AMC

AR

Rogers

Pinnacle Cinema

MALCO

AZ

Tempe

Arizona Mills 25 with IMAX

HARK

CA

Fremont

Cine Lounge 7

IND

CA

San Jose

East Ridge 15

AMC

CO

Denver

Highlands Ranch 24

AMC

CT

Hartford

Apple Cinemas Xtreme

APPL

FL

Tallahasse

Tallahasse 20

AMC

FL

Tampa

Highwoods 20

AMC

GA

Roswell

Digimax cinemas

IND

IL

Niles

Cinelounge 5

IND

MA

Boston

Apple Cinemas

APPL

MA

Methuen

Methuen 20

AMC

MO

Chesterfield

Chesterfield Cinema

MARC

MO

Mid Rivers

Mid Rivers Cinema

MARC

MO

St Charles

St Charles Cinema

MARC

NC

Concord

Concord Mills 24

AMC

NC

Morrisville

Park Place 12

AMC

NE

Omaha

Village Pointe Cinema

MARC

NJ

Edison

Movie City 8

IND

NY

New York

Empire 25

AMC

OH

Columbus

Crosswoods Cinema

MARC

OH

Columbus

Easton Town Center 28

AMC

TN

Memphis

Wolfchase Cinema

MALCO

TX

Frisco

Stonebriar 24

AMC

WI

Delafield

Hillside Cinema

MARC

WI

Franklin

Showtime Cinema

MARC
Unstoppable Movie Overseas Release by Tangensis INC

First we would like to thank our A2B India Production house for trusting & giving us this opportunity to be part of his Exciting New-Comedy Concept film #UNSTOPPABLE for Overseas region to Tangensis Inc.
UNSTOPPABLE is a Dramedy (Drama+Comedy) based on the consequences commencing around the 'money'. It's an out-n-out fun entertainer. The film stars Sunny and Saptagiri are lead roles. Nakshatra and Aqsa Khan are the female leads.

The exciting cast includes Posani, Bittiri satti, pruthvi, raja ravindra, raghu babu, murali goud, anand chakrapani, vikramaditya, lirisha, rupa lakshmi, chammak chandra, shakalaka shankar, mani chandana, geetha singh, gabbar singh batch and others.

Movie Credits:
Movie Name: Unstoppable – Unlimited Fun
Music Director: Bheems Ceciroleo
Singers: Rahul Sipligunj, Bheems Ceciroleo, Sai Madhav & Indravathi Chauhan (Pushpa Fame)
Lyricist: Kasarla Shyam
Dop: Venumuralidhar.V
Editor: Sb Uddhav
Choreography: Bhanu
Co-Producers: Shaik Rafi, Bittu, Ramu Marugonda Producer – Rajith Rao Director – Diamond Rathna Babu
About the movie:
Childhood buddies Kohinoor Kalyan (VJ Sunny) and Jilani Ramdas (Saptagiri) are easy-going guys. One day, the two friends lose money on cricket betting. In the process of regaining the lost money, they unintentionally obtain traps in the villains` space, but in exchange, they destroy the villains` entire empire. Are they purposefully stuck in the villain`s domain? If so, why? Is there anything hidden between them and the villains?
First Look of Hero & Heroine and Motion Poster of 'Unstoppable' recently and it instantly gained superb response on the media & trade circles. Amidst the buzz around it, most of them referred to the First Look posters as unique and intriguing.
Songs in the film with extraordinary music composed by Bheems Cecirpoleo (Dhamaka film). Exciting drama, comedy and emotions will be the major highlights of the movie. Visuals will take the audience to a new world of Unstoppable.
Bulk up for Unstoppable Comedy from June 8th, onwards in your favorite theaters In USA
For trade and exhibition in your city or Country, Contact:

Tangensis Inc
Sunil @ 4132629669
Pawan @ 8484663695
Or
email unstoppableunlimitedfun@gmail.com
First we would like to thank our A2B India Production house for trusting & giving us this opportunity to be part of his Exciting New-Comedy Concept film #UNSTOPPABLE for Overseas region to Tangensis Inc UNSTOPPABLE is a Dramedy (Drama+Comedy) based on the consequences commencing around the 'money'. It's an out-n-out fun entertainer. The film stars Sunny and Saptagiri are lead roles. Nakshatra and Aqsa Khan are the female leads. The exciting cast includes Posani, Bittiri satti, pruthvi, raja ravindra, raghu babu, murali goud, anand chakrapani, vikramaditya, lirisha, rupa lakshmi, chammak chandra, shakalaka shankar, mani chandana, geetha singh, gabbar singh batch and others. Movie Credits : Movie Name- Unstoppable – Unlimited Fun Music Director – Bheems Ceciroleo Singers: Rahul Sipligunj, Bheems Ceciroleo, Sai Madhav & Indravathi Chauhan (Pushpa Fame) Lyricist- Kasarla Shyam Dop: Venumuralidhar.V Editor: Sb Uddhav Choreography: Bhanu Co-Producers: Shaik Rafi, Bittu, Ramu Marugonda Producer – Rajith Rao Director – Diamond Rathna Babu About the movie Childhood buddies Kohinoor Kalyan (VJ Sunny) and Jilani Ramdas (Saptagiri) are easy-going guys. One day, the two friends lose money on cricket betting. In the process of regaining the lost money, they unintentionally obtain traps in the villains` space, but in exchange, they destroy the villains` entire empire. Are they purposefully stuck in the villain`s domain? If so, why? Is there anything hidden between them and the villains? First Look of Hero & Heroine and Motion Poster of 'Unstoppable' recently and it instantly gained superb response on the media & trade circles. Amidst the buzz around it, most of them referred to the First Look posters as unique and intriguing. Songs in the film with extraordinary music composed by Bheems Cecirpoleo(Khalidi film). Exciting drama, comedy and emotions will be the major highlights of the movie. Visuals will take the audience to a new world of Unstoppable Bulk up for Unstoppable comedy from June 8th,onwards in your favorite theaters In USA For trade and exhibition in your city or Country contact Tangensis Inc Group Sunil@4132629669 /Pawan@8484663695 or email unstoppableunlimitedfun@gmail.com
Read more at telugu360.com: Unstoppable Movie Overseas release by Tangesis group -
https://www.telugu360.com/unstoppable-movie-overseas-release-by-tangesis-group