Varisu (Tamil) - USA Theaters List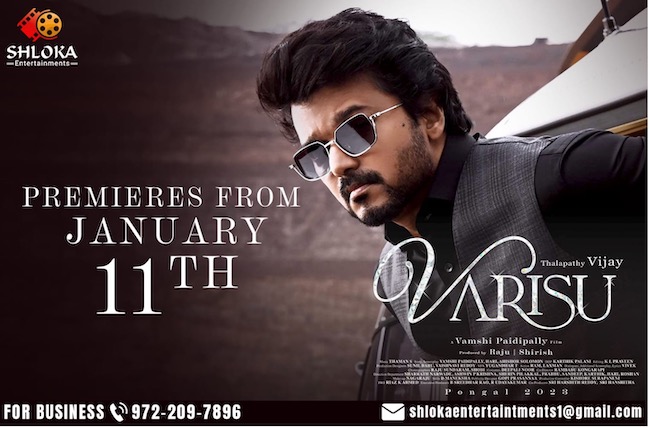 VARISU (TAMIL) - USA THEATER LIST

Cast: Vijay, Rashmika Mandanna, R Sarathkumar, Prabhu, Prakash Raj, Shaam, Srikanth, Khushbu, Yogi Babu, Jayasudha, Sangeetha Krish, Samyuktha Shanmughanathan, Nandini Rai, Ganesh Venkatraman, Sriman, VTV Ganesan, John Vijay, Bharath Reddy, Sanjana and others.

Director - Vamshi Paidipally

Producer - Raju, Shirish

Banner - Sri Venkateswara Creations

Co-Producers - Sri Harshith Reddy, Sri Harshitha, Composed by Thaman S

Language: Tamil

PRO : Riaz K Ahmed

USA Release by: Shloka Entertainments

State

City

Theatre Name

Circuit

AZ

Mesa

Cinemark 16

Cinemark

AZ

Gilbert

Gilbert Stadium 14

Regal

AZ

Phoenix

harkins Norterra

Harkins

AZ

Phoenix

Harkins Theatres Scottsdale 101 14

Harkins

CA

Tracy

Movies 14

Cinemark

CA

Folsom

Folsom 14

Cinemark

CA

Roseville

Cinemark Roseville Galleria Mall and XD

Cinemark

CA

Orange

Orange Stadium Promenade 25 + XD

Cinemark

CA

Los Angeles

Cinemark 18 and XD

Cinemark

CA

Mountain View

Mountain View Cinema 16

Cinemark

CA

Union City

Union City 25 + XD

Cinemark

CA

Milpitas

Milpitas Great Mall 20 + XD

Cinemark

CA

San Rafael

San Rafael Northgate 15

Cinemark

CA

San Jose

San Jose Oakridge 20 + XD

Cinemark

CA

San Bruno

Century Tanforan 20 + XD

Cinemark

CA

Fremont

Century at Pacific Commons + XD

Cinemark

CA

Dublin

Hacienda Stadium 20 IMAX & RPX

Regal

CA

Simi Valley

Civic Center Stadium 16 & IMAX

Regal

CA

Long Beach

Long Beach Stadium 26 & IMAX

Regal

CA

Ontario

Ontario Palace 22 IMAX & RPX

Regal

CA

San Diego

Mira Mesa Stadium 18 & IMAX & RPX

Regal

CO

Colorado Springs

Tinseltown 20 + XD

Cinemark

CO

Aurora

Century Aurora + XD

Cinemark

CO

Lakewood

Century 16 Bel Mar + XD

Cinemark

CO

Sheridan

River Point Stadium 14 & RPX

Regal

CT

Manchester

Buckland Hills 18 IMAX

Cinemark

CT

Milford

Connecticut Post 14 + IMAX

Cinemark

DE

Newark

Christiana + XD

Cinemark

FL

Jacksonville

Tinseltown 20 + XD

Cinemark

FL

Orlando

Cinemark Orlando + XD

Cinemark

FL

Davie

Paradise 24 + XD

Cinemark

FL

Tampa

Highwoods 20

AMC

FL

Royal Palm Beach

Royal Palm Beach Stadium 18 & RPX

Regal

FL

Sunrise

Sawgrass Stadium 23 & IMAX

Regal

FL

Tampa

Veterans Expressway 24

AMC

FL

Tampa

Citrus Park Stadium 20

Regal

FL

Lake Mary

AmStar Cinema 12 - Lake Mary

AmStar

GA

Johns Creek

Medlock Crossing Stadium 18 & RPX

Regal

GA

Buford

Regal Mall of Georgia 21 IMAX

Regal

GA

Chamblee

Hollywood Stadium 24 @ North I85

Regal

IA

Des Moines

W. Des Moines Jordan Creek + XD

Cinemark

ID

Meridian

Cinemark Majestic Cinemas 18

Cinemark

IL

North Aurora

Tinseltown 17

Cinemark

IL

Woodridge

Cinemark 16 + IMAX

Cinemark

IL

Deerpark

Deer Park 16

Cinemark

IL

Round Lake Beach

Round Lake Beach Stadium 18

Regal

IL

Warrenville

Cantera Stadium 17 & RPX

Regal

IL

Addison

Marcus Addison Cinema 21 with UltraScreen

Marcus

IL

Bloomington

Marcus Bloomington Galaxy 14 Cine + IMAX

Marcus

IL

Peoria

GQT Willow Knolls 14

GQT

IL

Chicago

ShowplaceICON Roosvelt collection

Showplace Icon

IN

Carmel

Village Park Cinema Stadium 17

Regal

IN

Indianapolis

Galaxy Stadium 14

Regal

KS

Merriam

Cinemark Tinseltown 20 + XD

Cinemark

KS

Wichita

Warren East 20

Regal

KY

Louisville

Cinemark Tinseltown + XD

Cinemark

LA

Baton Rouge

Cinemark Perkins Rowe + XD

Cinemark

MA

Framingham

Framingham 16

AMC

MA

Marlborough

Solomon Pond Stadium 15

Regal

MD

Hanover

Egyptian 24 + XD

Cinemark

MD

Towson

Cinemark Towson + XD

Cinemark

MD

Germantown

Germantown Stadium 14

Regal

MD

Silver Spring

Majestic Stadium 20 & IMAX

Regal

MI

Ypsilanti

Ann Arbor 20 IMAX

Cinemark

MI

Novi

Emagine NOVI

Emagine

MN

Eden Prairie

Eden Prairie Mall 18

AMC

MN

Edina

Southdale Center 16

AMC

MN

Lakeville

Emagine Lakeville

Emagine

MN

Mineeapollis

ShowplaceICON West end

Showplace Icon

MO

Chesterfield

Marcus Chesterfield Galaxy 14 + Mega

Marcus

MS

Pearl

Cinemark Tinseltown 17 + XD

Cinemark

NC

Raleigh

Cinemark Raleigh Grand

Cinemark

NC

Charlotte

Carolina Pavilion 22

AMC

NC

Concord

Concord Mills 24

AMC

NC

Charlotte

Stonecrest Stadium 22 IMAX & RPX

Regal

NC

Raleigh

Brier Creek Stadium 14

Regal

NC

Cary

Crossroads Stadium 20 & IMAX

Regal

NC

Greensboro

AmStar Cinemas 18 - Four Seasons Station

AmStar

NC

Mooresville

AmStar Mooresville

AmStar

NC

Charlotte

Ayrsley Grand 14

Independent

NC

Greensboro

Red Cinemas

Independent

NC

Cary

Paragon Parksidetown commons

Independent

NE

Omaha

Omaha Stadium 16

Regal

NH

Salem

Cinemark Rockingham Park + XD

Cinemark

NJ

Wayne

Cinemark Willowbrook Mall and XD

Cinemark

NJ

Elizabeth

Jersey Gardens 20

AMC

NJ

New Brunswick

New Brunswick 18

AMC

NJ

Burlington

Burlington Stadium 20

Regal

NJ

South Plainfield

Hadley Theatre Stadium 16

Regal

NJ

North Brunswick

Commerce Center Stadium 18 & RPX

Regal

NJ

Secacus

Kerasote showplace 14

Showplace Icon

NV

Las Vegas

Century Orleans 18 + XD

Cinemark

NY

Rochester

Tinseltown 16 + IMAX

Cinemark

NY

West Nyack

Palisades 21

AMC

NY

Farmingdale

Farmingdale Stadium 10 & IMAX

Regal

NY

Buffalo

Elmwood Center 16

Regal

OH

Valley View

Valley View 24 + XD

Cinemark

OH

Strongsville

Cinemark 14

Cinemark

OH

Columbus

Polaris 18 + XD

Cinemark

OH

Columbus

Movies 12

Cinemark

OH

West Carrollton

Dayton South 16 + XD

Cinemark

OH

Milford

Milford 16

Cinemark

OH

Columbus

Marcus Crosswoods Cinema

Marcus

OH

Miamisburg

Miamisburg 12

Cinepolis

OR

Beaverton

Beaverton Cedar Hills 16

Cinemark

OR

Hillsboro

Movies On TV Stadium 16

Regal

PA

Robinson Township

Cinemark Robinson Township + XD

Cinemark

PA

Monroeville

Cinemark Monroeville Mall 12 & XD

Cinemark

PA

Oaks

Oaks Stadium 24

Regal

PA

Downingtown

Downingtown Stadium 16 & IMAX

Regal

TN

Franklin

Thoroughbred 20

AMC

TN

Nashville

Hollywood Stadium 27 & RPX Nashville

Regal

TX

McKinney

Movies 14

Cinemark

TX

Plano

Cinemark Central Plano 10

Cinemark

TX

Grapevine

Cinemark Tinseltown 17 + XD

Cinemark

TX

Dallas

Cinemark 17 + IMAX

Cinemark

TX

Plano

Cinemark West Plano 20 + XD

Cinemark

TX

Plano

Legacy 24 + XD

Cinemark

TX

Denton

Cinemark 14

Cinemark

TX

Allen

Cinemark 16 Allen + XD

Cinemark

TX

Lewisville

Cinemark 14 + XD

Cinemark

TX

Frisco

Cinemark Frisco Square + XD

Cinemark

TX

Hurst

Northeast Mall 18 + XD

Cinemark

TX

Roanoke

Cinemark Roanoke and XD

Cinemark

TX

Frisco

Stonebriar Mall 24

AMC

TX

The Woodlands

Tinseltown 17 + XD

Cinemark

TX

Houston

Tinseltown 290 16 + XD

Cinemark

TX

Katy

Cinemark 19 + XD

Cinemark

TX

San Antonio

Cinemark San Antonio 16

Cinemark

TX

Pflugerville

Tinseltown 20 + XD

Cinemark

TX

Round Rock

Cinemark 14

Cinemark

TX

Cedar Park

Cinemark Cedar Park 12

Cinemark

TX

Pflugerville

Stone Hill Town Center

Cinemark

TX

Sugar Land

First Colony 24

AMC

TX

Stafford

Fountains 18

AMC

TX

Austin

Gateway Stadium 16 & IMAX

Regal

TX

The Colony

Galaxy Theatres Grandscape

Galaxy

TX

Euless

Euless 12

Cinepolis

UT

Salt Lake City

Salt Lake City 16 + XD

Cinemark

VA

Centreville

Centreville 12

Cinemark

VA

Fairfax

Fairfax Corner 14 + XD

Cinemark

VA

Richmond

Short Pump Stadium 14 & IMAX

Regal

VA

Ashburn

Fox Stadium 16 & IMAX

Regal

VA

McLean

SHOWPLACE ICON The Boro

Showplace Icon

WA

Federal Way

Century Sea Tac Mall 16 + XD

Cinemark

WA

Bellevue

Cinemark Lincoln Square Cinemas with IMAX

Cinemark

WA

Everett

Everett Stadium 16 & RPX

Regal

WI

Fitchburg

Fitchburg 18

AMC

WI

Wauwatosa

Mayfair 18

AMC

WI

Franklin/New Berlin

Marcus Showtime Cinema

Marcus

WI

New Berlin

Marcus Ridge Cinema

Marcus
Vaarasudu/Varisu USA Premieres on January 11th, 2023
Shloka Entertainments acquired North America rights for the first, yet crazy combination of Thalapathy Vijay and sensational director Vamshi Paidipally for the highly anticipated film Vaarasudu/Varisu which is slated for Jan 12th, 2023 release in India and the USA premieres will be commencing a day ahead, January 11th,2023.
Considering the huge craze around the film, Vaarasudu/Varisu is scheduled for grand premieres in 600+ locations with over 1000+ Screens on January 11th, 2023 (Pongal release) in Telugu + Tamil.
This entertainer is being made lavishly by ace producers Dil Raju, Shirish, Param V Potluri and Pearl V Potluri under the banners of Sri Venkateshwara Creations and PVP Cinema.
Online tickets will be opened from December 29th in major locations of North America and movie lovers can book tickets for premier shows and enjoy the movie on big screen.
We would like to thank our producers Dil Raju, Sirish & Param V Potluri and Pearl V Potluri and Phars Films for giving us this opportunity to distribute this prestigious movie in the North America market.
Please contact us for business inquiries:
Phone: 972-209-7896
Email: shlokaentertainments1@gmail.com