Waltair Veerayya (Telugu) - USA Theaters List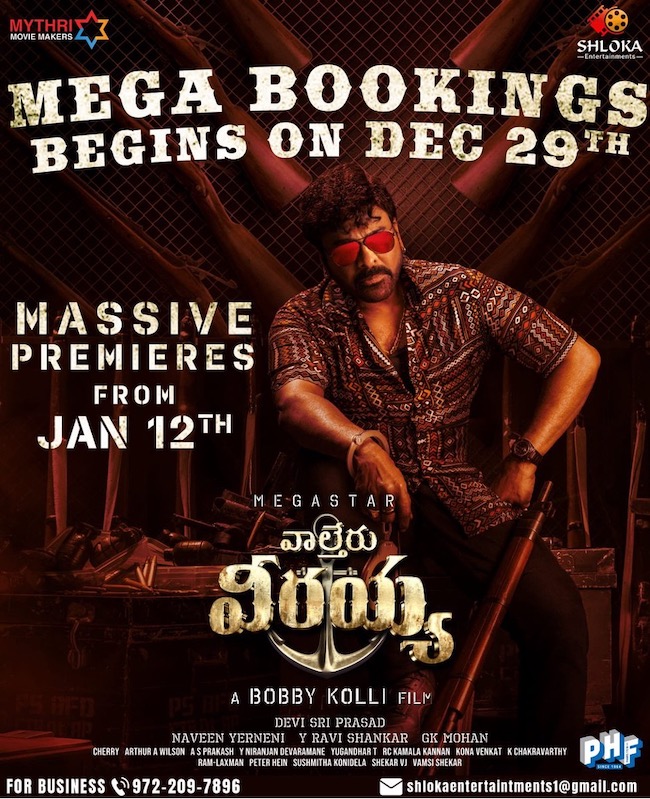 WALTAIR VEERAYYA (TELUGU) - USA THEATER LIST

Cast: Megastar Chiranjeevi, Ravi Teja, Shruti Haasan and Catherine Tresa

Story, Dialogues, Direction: KS Ravindra (Bobby Kolli)

Producers: Naveen Yerneni and Y Ravi Shankar

Banner: Mythri Movie Makers

CEO: Cherry & Music Director: Devi Sri Prasad

Language: Telugu

PRO : Vamsi-Shekar

USA Release by: Shloka Entertainments

State

City

Theatre Name

Circuit

AL

Birmingham

Trussville Stadium 16

Regal

AL

Montgomery

Festival Plaza 16

AMC

AR

Little Rock

Colonel Glenn 18 + XD

Cinemark

AR

Rogers

Malco Pinnacle Hills Cinema

Malco

AZ

Mesa

Cinemark 16

Cinemark

AZ

Tucson

Century El Con + XD

Cinemark

AZ

Chandler

Chandler Fashion 20

Harkins

AZ

Phoenix

harkins Norterra

Harkins

AZ

Tempe

Harkins Market Place

Harkins

AZ

Gilbert

Gilbert Stadium 14

Regal

CA

Tracy

Movies 14

Cinemark

CA

Folsom

Folsom 14

Cinemark

CA

Roseville

Cinemark Roseville Galleria Mall and XD

Cinemark

CA

Orange

Orange Stadium Promenade 25 + XD

Cinemark

CA

Los Angeles

Cinemark 18 and XD

Cinemark

CA

Mountain View

Mountain View Cinema 16

Cinemark

CA

Union City

Union City 25 + XD

Cinemark

CA

Milpitas

Milpitas Great Mall 20 + XD

Cinemark

CA

Daly City

Daly City 20 + XD, IMAX

Cinemark

CA

San Rafael

San Rafael Northgate 15

Cinemark

CA

San Jose

San Jose Oakridge 20 + XD

Cinemark

CA

San Bruno

Century Tanforan 20 + XD

Cinemark

CA

Fremont

Century at Pacific Commons + XD

Cinemark

CA

Fremont

Ciné Lounge Fremont 7 Cinemas

Cine Lounge

CA

Milpitas

Cinemax 4k

Independent

CA

Dublin

Hacienda Stadium 20 IMAX & RPX

Regal

CA

Bakersfield

Bakersfield Stadium 14

Regal

CA

Simi Valley

Civic Center Stadium 16 & IMAX

Regal

CA

Long Beach

Long Beach Stadium 26 & IMAX

Regal

CA

Ontario

Ontario Palace 22 IMAX & RPX

Regal

CA

San Diego

Mira Mesa Stadium 18 & IMAX & RPX

Regal

CO

Colorado Springs

Tinseltown 20 + XD

Cinemark

CO

Aurora

Century Aurora + XD

Cinemark

CO

Lakewood

Century 16 Bel Mar + XD

Cinemark

CO

Boulder

Century 16

Cinemark

CO

Sheridan

River Point Stadium 14 & RPX

Regal

CT

Manchester

Buckland Hills 18 IMAX

Cinemark

CT

Milford

Connecticut Post 14 + IMAX

Cinemark

CT

Simsbury

Apple Cinemas Simsbury 8

Apple

CT

Hartford

Apple Cinemas Xtreme

Apple

CT

Waterbury

Apple Cinemas Waterbury

Apple

CT

Hartford

Apple Cinemas Luxury Dine In & Sports Bar

Apple

DE

Wilmington

Movies 10

Cinemark

DE

Newark

Peoples Plaza Stadium 17

Regal

FL

Jacksonville

Tinseltown 20 + XD

Cinemark

FL

Orlando

Cinemark Orlando + XD

Cinemark

FL

Orlando

Universal Cinemark at Citywalk + XD

Cinemark

FL

Davie

Paradise 24 + XD

Cinemark

FL

Lake Mary

AmStar Cinema 12 - Lake Mary

AmStar

FL

Tallahassee

Governors Square Stadium 12

Regal

FL

Gainesville

Royal Park Stadium 16

Regal

FL

Royal Palm Beach

Royal Palm Beach Stadium 18 & RPX

Regal

FL

Tampa

Citrus Park Stadium 20

Regal

FL

Pinellas Park

Park Place Stadium 16 & RPX

Regal

FL

Tallahassee

Tallahassee 20

AMC

FL

Tampa

Highwoods 20

AMC

FL

Tampa

Veterans Expressway 24

AMC

GA

Roswell

Digimax Theatres

DigiMax

GA

Johns Creek

Medlock Crossing Stadium 18 & RPX

Regal

GA

Buford

Regal Mall of Georgia 21 IMAX

Regal

GA

Chamblee

Hollywood Stadium 24 @ North I85

Regal

GA

Decatur

North Dekalb Mall 16

AMC

GA

Columbus

Columbus 15

AMC

IA

Des Moines

W. Des Moines Jordan Creek + XD

Cinemark

IA

Davenport

Davenport 53 18 + IMAX

Cinemark

ID

Meridian

Cinemark Majestic Cinemas 18

Cinemark

IL

North Aurora

Tinseltown 17

Cinemark

IL

Woodridge

Cinemark 16 + IMAX

Cinemark

IL

Deerpark

Deer Park 16

Cinemark

IL

Addison

Marcus Addison Cinema 21 with UltraScreen

Marcus

IL

Bloomington

Marcus Bloomington Galaxy 14 Cine + IMAX

Marcus

IL

Niles

CINE LOUNGE at NILES

Cine Lounge

IL

Peoria

GQT Willow Knolls 14

GQT

IL

Chicago

ShowplaceICON Roosvelt collection

Showplace Icon

IL

Round Lake Beach

Round Lake Beach Stadium 18

Regal

IL

Crystal Lake

Crystal Lake Showplace Stadium 16

Regal

IL

Warrenville

Cantera Stadium 17 & RPX

Regal

IL

Champaign

Champaign 13

AMC

IL

Schaumburg

Streets Of Woodfield 20

AMC

IN

Indianapolis

Greenwood Corners 8

Cinemark

IN

Carmel

Village Park Cinema Stadium 17

Regal

IN

Indianapolis

Galaxy Stadium 14

Regal

IN

Fort Wayne,

Jefferson Point 18

AMC

KS

Merriam

Cinemark Tinseltown 20 + XD

Cinemark

KS

Wichita

Warren East 20

Regal

KS

Overland Park

Prairiefire 17

AMC

KY

Louisville

Cinemark Tinseltown + XD

Cinemark

KY

Lexington

Cinemark Fayette Mall 16 + XD

Cinemark

KY

Louisville

Preston Crossings 16

Cinemark

LA

Baton Rouge

Cinemark Perkins Rowe + XD

Cinemark

MA

Bellingham

Bellingham Stadium 14

Regal

MA

Danvers

Liberty Tree Mall 20

AMC

MD

Hanover

Egyptian 24 + XD

Cinemark

MD

Towson

Cinemark Towson + XD

Cinemark

MD

Germantown

Germantown Stadium 14

Regal

MI

Ypsilanti

Ann Arbor 20 IMAX

Cinemark

MI

Grand Rapids

Celebration Cinema Grand Rapids North & IMAX

Celebration

MI

Lansing

Celebration Cinema Lansing & IMAX

Celebration

MI

Portage

Celebration Cinema Crossroads & IMAX

Celebration

MI

Mt Pleasant

Celebration Cinema Mount Pleasant

Celebration

MI

Novi

Emagine NOVI

Emagine

MI

Canton

Emagine Canton

Emagine

MI

Lansing

Lansing Mall Stadium 12 & RPX

Regal

MI

Walled Lake

Commerce Township Stadium 14

Regal

MI

Walker

Grand Rapids 18

AMC

MN

Plymouth

Mann Plymouth GRAND 15

Independent

MN

Mineeapollis

ShowplaceICON West end

Showplace Icon

MN

Eden Prairie

Eden Prairie Mall 18

AMC

MO

Chesterfield

Marcus Chesterfield Galaxy 14 + Mega

Marcus

MO

Saint Charles

Marcus St. Charles 18

Marcus

MO

Saint Peters

Marcus Mid Rivers 14 Cine

Marcus

MO

O'Fallon

OFallon Stadium 14

Regal

MS

Pearl

Cinemark Tinseltown 17 + XD

Cinemark

NC

Charlotte

Cinemark Movie Bistro

Cinemark

NC

Raleigh

Cinemark Raleigh Grand

Cinemark

NC

Greensboro

AmStar Cinemas 18 - Four Seasons Station

AmStar

NC

Mooresville

AmStar Mooresville

AmStar

NC

Charlotte

Ayrsley Grand 14

Independent

NC

Greensboro

Red Cinemas

Independent

NC

Cary

Paragon Parksidetown commons

Paragon

NC

Raleigh

Brier Creek Stadium 14

Regal

NC

Charlotte

Starlight Stadium 14 Charlotte

Regal

NC

Charlotte

Stonecrest Stadium 22

Regal

NC

Cary

Paragon Fenton

Paragon

NC

Cary

Crossroads Stadium 20 & IMAX

Regal

NE

Omaha

Marcus Village Pointe Cinema 16 with UltraScreen

Marcus

NE

Omaha

Omaha Stadium 16

Regal

NH

Salem

Cinemark Rockingham Park + XD

Cinemark

NH

Merrimack

Apple Cinemas Merrimack

Apple

NH

Hooksett

Apple Cinemas Hooksett IMAX

Apple

NJ

Somerdale

Cinemark Movies 16 + XD

Cinemark

NJ

Watchung

Cinemark Watchung and XD

Cinemark

NJ

Secacus

Kerasote showplace 14

Showplace Icon

NJ

Burlington

Burlington Stadium 20

Regal

NJ

South Plainfield

Hadley Theatre Stadium 16

Regal

NJ

North Brunswick

Commerce Center Stadium 18 & RPX

Regal

NJ

Elizabeth

Jersey Gardens 20

AMC

NJ

New Brunswick

New Brunswick 18

AMC

NV

Las Vegas

Century Orleans 18 + XD

Cinemark

NV

Las Vegas

Las Vegas South Point 16 + XD

Cinemark

NY

Binghamton

Binghamton Stadium 12

Regal

NY

Albany

Crossgates Stadium 18 & IMAX

Regal

NY

Deer Park

Regal Deer Park 16 & IMAX

Regal

NY

Farmingdale

Farmingdale Stadium 10 & IMAX

Regal

NY

Rochester

Henrietta Stadium 18

Regal

NY

Buffalo

Elmwood Center 16

Regal

NY

West Nyack

Palisades 21

AMC

OH

Gahanna

Movies 16

Cinemark

OH

Valley View

Valley View 24 + XD

Cinemark

OH

Strongsville

Cinemark 14

Cinemark

OH

Columbus

Polaris 18 + XD

Cinemark

OH

West Carrollton

Dayton South 16 + XD

Cinemark

OH

Milford

Milford 16

Cinemark

OH

Toledo

Franklin Park 16 + XD

Cinemark

OH

Columbus

Cinemark Movies 12

Cinemark

OH

Columbus

Marcus Crosswoods Cinema

Marcus

OH

Miamisburg

Miamisburg 12

Cinepolis

OK

Oklahoma City

Cinemark Tinseltown 20 + XD

Cinemark

OK

Tulsa

Cinemark 17 + IMAX

Cinemark

OR

Beaverton

Beaverton Cedar Hills 16

Cinemark

OR

Hillsboro

Movies On TV Stadium 16

Regal

PA

Erie

Tinseltown 17

Cinemark

PA

Robinson Township

Cinemark Robinson Township + XD

Cinemark

PA

Monroeville

Cinemark Monroeville Mall 12 & XD

Cinemark

PA

Harrisburg

Harrisburg Stadium 14

Regal

PA

Oaks

Oaks Stadium 24

Regal

PA

Warrington

Warrington Stadium 22 & IMAX

Regal

RI

Warwick

Apple Cinemas Warwick Mall

Apple

SC

Greenville

Hollywood Stadium 20 Greenville & RPX

Regal

SC

Columbia

Sandhill Stadium 16 IMAX & RPX

Regal

SD

Sioux Falls

Century Stadium 14 + XD

Cinemark

TN

Cordova

Malco Cordova Cinema

Malco

TN

Collierville

Malco Collierville Towne Cinema Grill & MXT

Malco

TN

Nashville

Hollywood Stadium 27 & RPX Nashville

Regal

TN

Chattanooga

Chattanooga 18

AMC

TN

Franklin

Thoroughbred 20

AMC

TX

McKinney

Movies 14

Cinemark

TX

Plano

Cinemark Central Plano 10

Cinemark

TX

Grapevine

Cinemark Tinseltown 17 + XD

Cinemark

TX

Dallas

Cinemark 17 + IMAX

Cinemark

TX

Plano

Cinemark West Plano 20 + XD

Cinemark

TX

Plano

Legacy 24 + XD

Cinemark

TX

Denton

Cinemark 14

Cinemark

TX

Allen

Cinemark 16 Allen + XD

Cinemark

TX

Lewisville

Cinemark 14 + XD

Cinemark

TX

Frisco

Cinemark Frisco Square + XD

Cinemark

TX

Hurst

Northeast Mall 18 + XD

Cinemark

TX

Roanoke

Cinemark Roanoke and XD

Cinemark

TX

Frisco

CUT! by Cinemark

Cinemark

TX

McKinney

Cinemark North McKinney and XD

Cinemark

TX

The Woodlands

Tinseltown 17 + XD

Cinemark

TX

Houston

Tinseltown 290 16 + XD

Cinemark

TX

Beaumont

Tinseltown USA 15 + XD

Cinemark

TX

Katy

Cinemark 19 + XD

Cinemark

TX

Webster

Cinemark 18 + XD

Cinemark

TX

Pearland

Cinemark 12 + XD

Cinemark

TX

Houston

Memorial City 16

Cinemark

TX

Missouri City

Cinemark Missouri City and XD

Cinemark

TX

Odessa

Odessa 12

Cinemark

TX

San Antonio

Cinemark San Antonio 16

Cinemark

TX

College Station

College Station + XD

Cinemark

TX

Lubbock

Cinemark Tinseltown 17 + XD

Cinemark

TX

Pflugerville

Tinseltown 20 + XD

Cinemark

TX

Bee Cave

Cinemark Hill Country Galleria 14

Cinemark

TX

Austin

Southpark Meadows 14

Cinemark

TX

Cedar Park

Cinemark Cedar Park 12

Cinemark

TX

Pflugerville

Stone Hill Town Center

Cinemark

TX

Richardson

Fun Movie Grill

Independent

TX

The Colony

Galaxy Theatres Grandscape

Galaxy

TX

Euless

Euless 12

Cinepolis

TX

Frisco

Stonebriar Mall 24

AMC

TX

Sugar Land

First Colony 24

AMC

UT

West Jordan

Cinemark 24 + XD

Cinemark

VA

Centreville

Centreville 12

Cinemark

VA

Fairfax

Fairfax Corner 14 + XD

Cinemark

VA

McLean

SHOWPLACE ICON The Boro

Showplace Icon

VA

Glen Allen

Virginia Center Stadium 20

Regal

VA

Richmond

Short Pump Stadium 14 & IMAX

Regal

VA

Midlothian

Commonwealth Stadium 20 & IMAX

Regal

VA

Manassas

Manassas Stadium 14 & IMAX

Regal

VA

Ashburn

Fox Stadium 16 & IMAX

Regal

VA

Norfolk

Macarthur Center Stadium 18 & RPX

Regal

WA

Federal Way

Century Sea Tac Mall 16 + XD

Cinemark

WA

Bellevue

Cinemark Lincoln Square Cinemas with IMAX

Cinemark

WA

Kirkland

Cinemark Totem Lake + XD

Cinemark

WA

Walla Walla

Cinemark Grand Cinemas

Cinemark

WA

Redmond

Bella Bottega Stadium 11

Regal

WA

Seattle

Meridian 16

Regal

WI

Franklin/New Berlin

Marcus Showtime Cinema

Marcus

WI

New Berlin

Marcus Ridge Cinema

Marcus

WI

Wauwatosa

Mayfair 18

AMC

Waltair Veerayya USA release by Shloka Entertainments
Shloka Entertainments is proud to acquire the North America rights for prestigious Mega Star & Ravi Teja's Waltair Veerayya produced under the banner of Mythri Movie Makers in the direction of Bobby Kolli.
Movie buffs will have a blast for the Sankranthi in 2023 as they get to see Megastar Chiranjeevi on screen in the much-awaited mass actioner Waltair Veerayya being directed by director Bobby Kolli.
The 'MEGA' Standees will be placed in all major centers of USA and more promotional contents are Scheduled exclusively for USA folks. Take a selfie and show your love for Mega Star and tag us on twitter @shlokaents.
Waltair Veerayya will be hitting the screens grandly worldwide on January 13, 2023, in India. Massive NORTH AMERICA premieres from Jan 12th, 2023.
The film billed to be a mass-action entertainer laced with all the commercial ingredients is produced on a grand scale by Naveen Yerneni and Y Ravi Shankar of Mythri Movie Makers.
Shloka Entertainments is ensuring a massive release across North America. It's going to be Mega - Mass Sankranthi as a film being planned to release in 400+ theaters across the USA.
Online tickets will be available from December 29th in all major theaters across the USA. Patrons can start booking their premier tickets and enjoy the Boss swag on big screens. We at Shloka Entertainments are making every effort to bring this prestigious movie on large format screens (XDs) in all major cities.
We would like to thank our producers Naveen Yerneni and Y Ravi Shankar & our partners Phars Films for giving us this opportunity to distribute this movie in the North America market.
Please contact us via mail or through phone for business trade inquiries:
Phone : 972-209-7896
Email: shlokaentertainments1@gmail.com